Skip to Content
Using White Granite in Your Kitchen Design
If you love the look of marble but have concerns about the cost, consider white granite countertops near Littleton for your new kitchen design. Granite is an elegant and equally durable alternative to marble that can provide your home with lasting and versatile function and beauty.
Fresh Look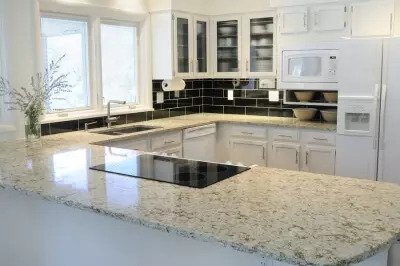 The naturally occurring flecks of color and unique striations in granite make it difficult to find a slab that is pure white, but these natural patterns mean that no two granite countertops are identical, creating a one-of-a-kind look for your kitchen. White granite can range from cooler tones that feature gray and blue pigments to warmer ones that include pinks and creams. If your goal is to create a bright, clean, and fresh look for your kitchen design, white granite can provide bright surfaces that contain light-catching detail and do not appear sterile or bland.
Lasting Beauty
You can expect the natural elegance that your home will gain with white granite countertop installation to last your family for decades. With a bit of maintenance over the years, your counters can remain as bright and beautiful as the day you have them installed. Because of granite's enduring qualities and depth of color and detail, it is a popular choice for kitchen countertops that can increase the value of your home.
Natural Strength
With regular sealing, white granite countertops will remain resistant to staining and will not harbor bacteria, making it a sanitary surface that is safe for food preparation. Granite is heat-resistant as well as incredibly durable, making it resistant to scratches, nicks, and chips.
Ample Versatility
If you decide that white granite sounds right for your countertops, not only will you get to choose a shade of white granite that you prefer but in many cases, you'll also be able to choose the precise slab of rock that you would like. Additionally, granite can be formed into any shape that you need for your kitchen design and can be used to create backsplashes, kitchen islands, and curved or oval surfaces.