Skip to Content
Rock Solid Custom Granite Proudly Announces Involvement in "Building Homes for Heroes"
Giving back to U.S. military veterans is the goal of Building Homes for Heroes , a nonprofit organization wholly devoted to building and modifying mortgage-free homes to the heroes among us. These veterans who have served overseas come home with physical and emotional scars, often facing excruciatingly pain and the financial burden of paying for their treatment of their medical conditions. One such veteran is U.S. Marine Corps Sergeant Kirstie Ennis , who will receive a beautiful mortgage-free home, with the partnership of Rock Solid Custom Granite , providing custom cabinetry and countertops, and Arizona Tile, providing the building materials.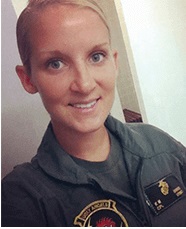 Sergeant Ennis, 26, served in Afghanistan and nearly died when her CH-53D helicopter crash landed in June of 2012. As a result, she broke her left ankle, tore her rotator cuff and labrum, injured the cervical discs of her spine, shattered her jaw, and she suffered facial lacerations, a traumatic brain injury and posttraumatic stress disorder. Her road to recovery has been long and arduous, as she has endured dozens of surgeries, including an above-the-knee amputation, to repair the physical damage. Rebuilding her life, Sergeant Ennis' has demonstrated her remarkable drive to move forward. She even has her sights set on competing in snowboarding at the 2018 Winter Paralympics in Pyeongchang, South Korea. This remarkable story of perseverance in the face of devastating physical and emotional trauma has inspired the Building Homes for Heroes foundation to gift Sergeant Ennis her own home, as well as two years of financial counseling at no charge.
Rock Solid was enlisted to help the foundation through Jon Sigilito, owner of Durango Party Rental , a party supply company that provides gratis rentals to Building Homes for Heroes' events. The participation of Rock Solid means that Sergeant Ennis' home will have beautiful, custom cabinetry and granite countertops for the kitchen and bathrooms, customized to her unique preferences and needs. Rock Solid offers a stunning variety of countertop material choices, including granite, quartz and marble, among others.